The value of the dollar has surged against other currencies, making your retirement portfolio go further on those sandy beaches.
While economists and politicians argue over debt ceilings, real people are worrying about real problems like how can anyone retire on an underfunded social security system and rising healthcare costs.
The good news is that it might have just gotten a little cheaper to retire…just not here in the United States. The value of the dollar has been surging since July of last year, up more than 20% against a group of ten major currencies. For retirees, or anyone visiting another country, that means your greenbacks buy much more when converted into the weaker local money.
There are several reasons for the dollar's surge, some possibly passing while others that could help keep the dollar strong for some time. Economic growth has rebounded since the financial crisis, especially against other developed economies. Interest rates are higher and the central bank is much closer to raising rates than monetary authorities in Japan or Europe.
This has all made the U.S. dollar very attractive to foreign investors and the rush of money from overseas has made its value more precious.
Spending Less to Get More in Retirement
Unfortunately, several of the top retirement destinations use the dollar or peg their currency's value to the dollar through manipulation of money flows. You won't get much benefit from dollar strength in places like Ecuador, Panama, Belize, Uruguay, Bermuda, Bahamas, Costa Rica, El Salvador, British Virgin Islands or the Turks and Caicos Islands.
The European Union has yet to really rebound from the financial crisis of 2008 and unemployment is still into the double-digits in most countries. The European Central Bank (ECB) just recently joined the monetary printing party started in the United States and Japan several years ago. This has driven the value of the euro down to nearly even with the dollar. Your retirement savings may go 24% further in popular E.U. retirement countries like Spain and Italy but prices are still expensive compared to other hotspots.
I could talk for hours about how much further the dollar goes in Colombia because I live there myself. Besides the stronger dollar, the country's two major exports of oil and coal are both facing drastically lower prices. Neither of the two fossil fuels is likely to rebound quickly which should mean that the peso stays weak against the greenback even if other currencies strengthen.
Mexico and Malaysia, the third and fourth on International Living's 2015 List of Retirement Destinations, have also seen their currencies depreciation against the dollar but to a smaller extent.
Check out the table below to see how much further your dollar goes in popular retirement destinations.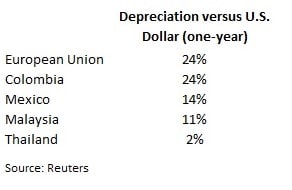 Not quite ready to retire yet but want to take advantage of dollar strength? Those dollars will buy more investments denominated in foreign currencies as well. Buying investments overseas is a good way to diversify your investments and your dollar-denominated return will get a boost if the dollar reverses its course to continue the decades-long path of weakening.